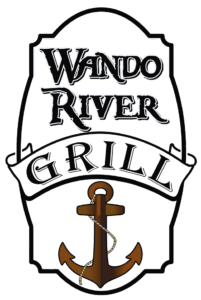 The Wando River Grill is the Wando's only waterfront restaurant. It offers indoor and outdoor patio dining in a spectacular setting. The Grill features a seasonal menu, including fresh and local seafood, an assortment of small plates, soups, salads and other entrées in a casual environment. Boating visitors can eat in or take their meals to go for enjoyment on the water.
The Grill also features a second floor event space, The Anchor Room, that can accommodate groups of over 100, with two scenic patios and an event room finished in natural cypress. The Anchor Room is perfect for weddings, receptions, office parties, graduation parties, birthday parties, training sessions, lectures and other special events. The Grill offers an assortment of Anchor Room catering options.
Visitors to the Marina & Grill can enjoy the sand volleyball court, outside gazebo, corn hole, and lounge chairs. On selected summer afternoons and evenings, the Grill will feature outdoor musical entertainment to enhance the waterfront experience. Whether arriving by land or water, visitors to the Wando River Marina & Grill will find a friendly staff, first-class facilities, wonderful food, and refreshing drinks.
Matt Martindale
Executive Chef
Matt Martindale grew up in Charlotte, North Carolina, where at the age of 15 he discovered his passion for the art of cooking. Martindale began his culinary career at South Mecklenburg High School, where he earned the outstanding achievement award in culinary arts. After high school, Matt enrolled in culinary school at CPCC in Charlotte, and after two semesters transferred to Johnson and Wales University in Charleston.
Chef Martindale's Culinary Career began in Charlotte at Trio Restaurant at the age of 15, where he learned what it takes to work in a kitchen. While attending Johnson and Wales Matt worked at Meritage in Charleston, where Martindale moved through the ranks of the kitchen, and assisted in the opening of two additional restaurants. Chef Martindale is inspired by the local and regional southern cuisine. During his career Matt has worked under Executive Chefs Kevin Johnson, (Anson, Charleston) Brannon Florie, (17 North, The Granary, On 41,Pier 41 and The Rarebit Charleston) Chris Edwards (New South, Charlotte) Tom Condron (Mimosa Grill, Charlotte) and John Olsson (Meritage, Charleston) In his spare time Chef Martindale enjoys fishing the waters of Charleston, listening to live music, and going out to try new restaurants.
Stephen Annibale
General Manager
Stephen was born and raised in Charleston, S.C., attending Bishop England then Trident Technical college to pursue a degree in emergency medicine, working at Publix as a Customer Service Manager. He went on to work for Charleston County as a Paramedic, moonlighting at a local restaurant. He ended up falling in love with the restaurant business and went back to school to first pursue his degree in culinary arts, and is now working on his bachelor's in business with a focus on small business and human resources. He worked his way up at the local restaurant from an expo to lead line cook, until he got an opportunity to join the team at Wando River Grill, where he quickly worked his way up to Front of House Manager. Inspired by his mentor at Publix, he has a strong focus on customer service and constant employee training and advancement and believes that no guest should ever leave dissatisfied in any way, while years of medical training leave his standards for cleanliness high above the norm. He has been described by his peers as a workaholic, and in his downtime enjoys fishing and renovating houses.
Find Us:
Wando River Grill
133 Nautical Lane
Mt Pleasant, SC 29466
(843) 856-1267
| | |
| --- | --- |
| Monday | Closed |
| Tuesday | Closed |
| Wednesday | Closed |
| Thursday | 3pm - 10pm |
| Friday | 3pm - 10pm |
| Saturday | 11am-11pm |
| Sunday | 11am-8pm |
The Marina
Visitors arriving by boat to dine at the Wando River Grill can tie up for free at the designated docks.

The Anchor Room
The Anchor Room is perfect for all occasions where great views, a great room, and great food and beverages are needed.