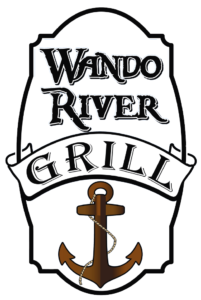 The Wando River Grill is the Wando's only waterfront restaurant. It offers indoor and outdoor patio dining in a spectacular setting. The Grill features a seasonal menu, including fresh and local seafood, an assortment of small plates, soups, salads and other entrées in a casual environment. Boating visitors can eat in or take their meals to go for enjoyment on the water. The Grill also features a second floor event space, The Anchor Room, that can accommodate groups of over 100, with two scenic patios and an event room finished in natural cypress. The Anchor Room is perfect for weddings, receptions, office parties, graduation parties, birthday parties, training sessions, lectures and other special events. The Grill offers an assortment of Anchor Room catering options. Visitors to the Marina & Grill can enjoy the sand volleyball court, outside gazebo, corn hole, and lounge chairs. On selected summer afternoons and evenings, the Grill will feature outdoor musical entertainment to enhance the waterfront experience. Whether arriving by land or water, visitors to the Wando River Marina & Grill will find a friendly staff, first-class facilities, wonderful food, and refreshing drinks.
Follow the Wando River Grill on Social Media!
Wilson Pippin
Enjoy the musical stylings of Wilson Pippin every Friday from 6pm to 10pm this Fall. Wilson Pippin is a talented Bass guitarist who performs live at the Wando River Grill. Come by Friday evenings, relax after work, enjoy the live music, beautiful scenery, and delicious food and drinks. There's no better way to relax on the Wando!
11/2, 11/9, 11/16, 11/30
Matt Mackelcan
Matt Mackelcan performs live at the Wando River Grill on Saturday evenings from 6pm to 9pm this Fall. Matt Mackelcan is a singer songwriter whose style combines American soul and upbeat pop-rock. He has toured all over America and performed at major festivals/events throughout the country. Matt's performances are entertaining, unique, and a joy to watch and listen to. Come by Saturday evenings on the Wando to listen to Matt's live performance, while enjoying the best waterfront dining the Wando has to offer.
10/26, 11/3, 11/10, 11/17, 12/1
Savannah Grace
Savannah Grace performs live at the Wando River Grill Sundays from 2pm to 5pm this Fall. She plays an array of music ranging from The Oh Hellos, Fleetwood Mac, The Beatles, The Rolling Stones, John Mayer and Ed Sheeran as well as incredible original material. Savannah Grace has a beautiful and unique voice that soothes and relaxes on a Sunday afternoon. Come by Sundays to enjoy Savannah's lovely live performance, refreshing cocktails, and delicious food.
10/28, 11/4, 11/11, 11/18, 11/25, 12/2
Find Us:
Wando River Grill 133 Nautical Lane Mt Pleasant, SC 29466 (843) 856-1267
Edit

| | |
| --- | --- |
| Monday | Closed |
| Tuesday | Closed |
| Wednesday | Closed |
| Thursday | 3pm – 10pm |
| Friday | 11am – 10pm |
| Saturday | 11am-10pm |
| Sunday | 11am-9pm |
The Marina
Visitors arriving by boat to dine at the Wando River Grill can tie up for free at the designated docks.

The Anchor Room
The Anchor Room is perfect for all occasions where great views, a great room, and great food and beverages are needed.